---
Author: Borys Hołub 
---
     Doctors at the Oral and Maxillofacial Surgery Ward of Clinical University Hospital in Olsztyn, Poland, work with full-scale models of patients' skulls 3D printed on the Zortrax M200 with Z-ABS filament. Based on CT scans, those models help in shaping personalized implants prior to surgery. Only in the 2015-2017 period, the ward admitted approximately 300 patients. 55% of them suffered from orbital traumas and over 80% of those cases required orbital floor reconstruction. 3D printing can make their treatment more effective and safer.
BACKGROUND
     Surgery of mouth, head, neck, face and jaws (oral and maxillofacial surgery) is particularly difficult, as usually numerous delicate, vital organs and structures surround the operated area. The 3D printing technology allows to customize the therapeutic process and to increase accuracy, precision, and consequently the treatment's safety.FactsMRI and CT scans can be transformed into digital models ready for 3D printing.3D printed models help during surgical planning and preparation. Medical 3D printing is economically feasible and requires little user engagement.
 3D printed organ and bone models based on MRI or CT scans help to prepare implants prior to surgeries and precisely assess their placement. Thanks to Zortrax 3D printers, creating those highly personalized models became possible and economically feasible. They are invaluable during surgical planning, as flat images are often insufficient. Especially in the cases of a bone structure damaged by traffic accidents or oncological procedures.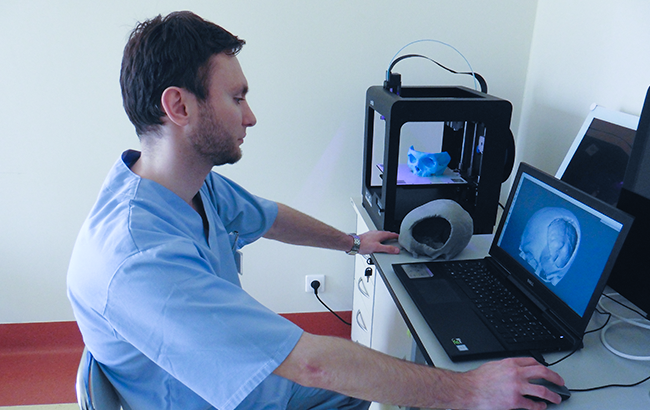 GOAL
     All kinds of eye socket (orbit) pathologies are particularly challenging for facial reconstruction surgeons. In 2015-2017, Oral and Maxillofacial Surgery Ward of Clinical University Hospital in Olsztyn, Poland, admitted over 130 patients in need of orbital floor reconstruction. Additionally, some oncological patients that underwent orbital and partial skull removal (resection) of a tumour afflicted areas needed the reconstruction.FactsOrbital floor reconstruction surgery requires utmost precision. Traditionally, titanium implants were bent during the operation.3D printing provides an alternative solution. It is important to recreate the initial shape of patient's eye socket to reduce complications such as double vision (diplopia), bulging of the eye (exophthalmos), displacement of the eyeball (enophthalmos) or eye movement impairment.
     One of the possible ways of eye socket floor reconstruction is covering the cavity with a net-shaped titanium implant. The implant has to be shaped to accurately fit orbit's shape. The plate should precisely fit the patient's anatomy. The common method was to bend the implant during operation to fit inside to socket floor. But there's a viable alternative to this cumbersome and inaccurate method.
PROCESS
     According to the modern medical literature, 3D printing mirrored model of unaffected orbit and then reconstructing the afflicted one is the leading method. The first stage of preoperative preparations is to create a 3D model of the patient's skull. Digital model can be effortlessly edited. Using modelling software, the specialists prepare the mirror image of the healthy area and replaces the afflicted one.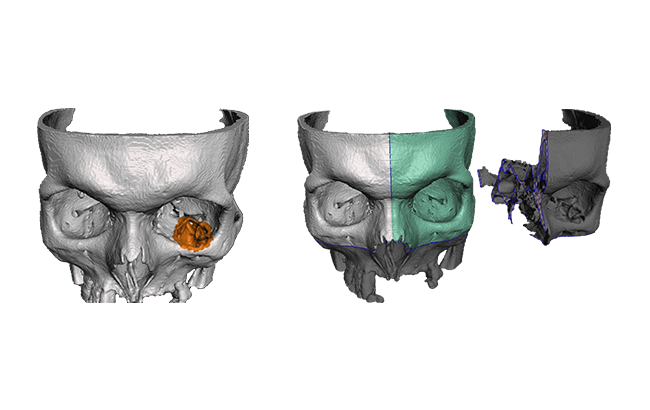 FactsBy mirroring the healthy parts, specialist creates digital model.Z-SUITE prepares the model for 3D printing. An implant is shaped on the 3D printed model. Later, a .stl file is transferred to Z-SUITE slicing software to prepare it for 3D printing. Z-SUITE allows users to select 3D printing quality, infill type, and amount of support structures. Lastly, the skull model is 3D printed on the Zortrax M200 3D printer. With it, the surgeon prepares the implant prior to operation. A titanium plate is bent until it exactly fits the bone structure. The implantation takes place through a small incision in the lower eyelid. A surgery scar is well hidden in a natural skin fold.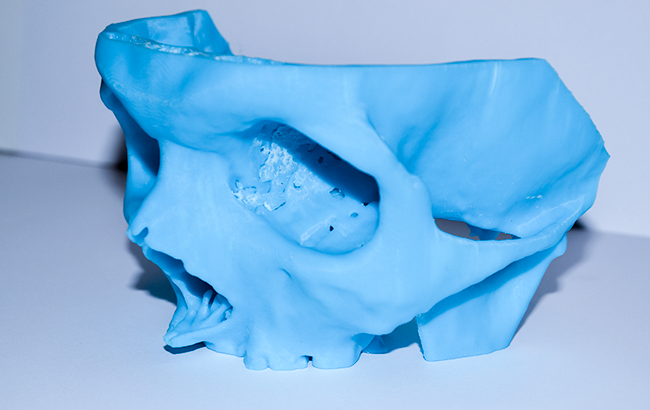 In this case, Sky Blue Z-ABS filament was used. The choice was deliberate, as the colourful material reveals more details than Pure White. Z-ABS is an economical thermoplastic best suited for models requiring durability. The 3D printed skull model was used for implant shaping, so structural strength was the number one priority. Noteworthy, 3D printing was done entirely by a medical student with no previous experience with it.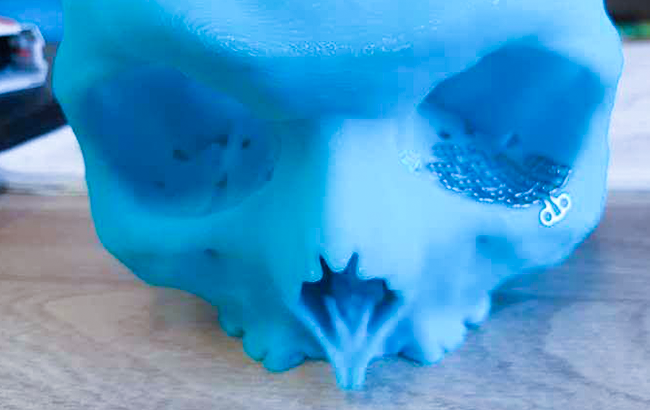 RESULT
     Model preparations, including mirrored reconstruction, were done in 30 minutes. 3D printing of the model took 20 hours. The specialist shaped the implant in half an hour. One hour total of specialist's work (model preparation plus implant shaping) equals 30 minutes spent during operation. This precious time can be saved, resulting in faster, safer operation. Furthermore, it means that the team (surgeon, operating assistant, anesthesiologist, and nurse) can finish their task quicker.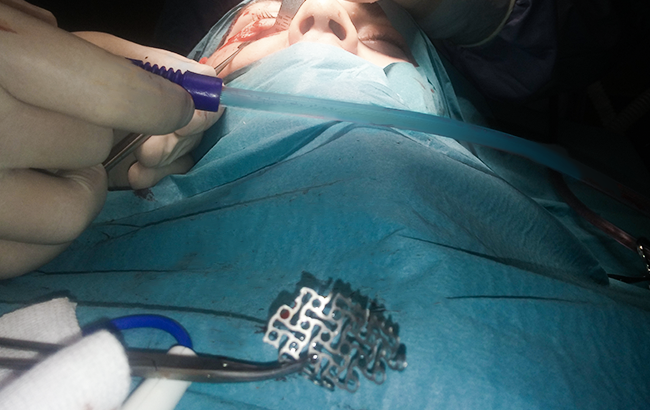 FactsPrecisely pre-bent implants make surgeries shorter. Shorter surgeries mean smaller dosage of anaesthetics and less tissue trauma. Specialists can finish their tasks faster and can tend to other patients. By using the implant individually prepared before the procedure, specialists managed to reduce tissue trauma. Based on the precise 3D printed model, the implant can be fitted considerably quicker. There's no need of repeated on-site bending, manoeuvring and testing. All of this results in better visual effect and shorter time needed to finish the surgery. Shorter surgery means shorter convalesce period and reduced risk of infection. Furthermore, it results in a smaller dosage of anaesthetics which positively impacts the patient's liver and kidneys. Medical procedures supported by Zortrax 3D printers are more effective, faster, and safer. The final result is more predictable. Moreover, patients' appearance shouldn't be altered, as it often affects their well-being.
CONCLUSION
     Experience gathered by the surgeons of Oral and Maxillofacial Surgery Ward of Clinical University Hospital in Olsztyn confirms that surgeries supported by 3D printed models have positive effects on patient's comfort and health. Implants shaped before the operation reduce the risk of mistakes and further complications. The 3D printing technology significantly improves and shortens the procedure. Furthermore, 3D printed models allow to better explain the situation and the procedure to patients which makes them feel safer.FactsPre-bent implants improve surgery success rate.3D printed models can be used to explain surgeries to patients.3D printing technology is a vital part of the modern medicine. Tangible objects are easier to comprehend than flat images. Step by step, a surgeon can explain each stage of the surgery. All of the above reduce stress, doubts and increase patients' tranquillity.
     Until recently, the economical in-house building of precise, intricate medical models was impossible. With 3D printing at hand, specialists are empowered with a reliable method of medical model making. Precision and speed are incomparable with past methods like plaster casting or costly mechanical milling. Thus, 3D printing is a prevailing technology in the fields of medicine like dentistry and orthodontics.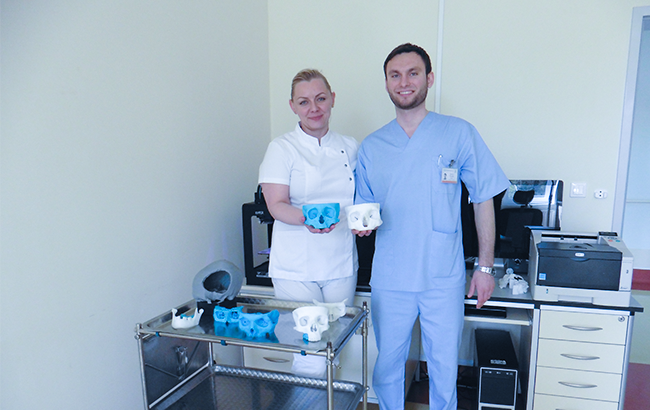 More examples of usage of Zortrax 3D printers in medicine: